Tan correctly and safely at Spalding's top Solarium and Tanning Salon. We will help you assess your skin type and tanning strategy to ensure the best possible results. Free Goggle, Hair Turban and Body Spray use helps you to enjoy your tanning here even more. Pay as you go or buy a course Top Up Card and take advantage of Spalding's best tanning deals!
Electric Beach Solarium and Tanning Salon is right in the heart of Spalding. Open long hours and 7 days a week you can walk straight in and enjoy your tanning with no appointment. Please
like us on facebook
to contact us and keep up to date on our latest offers & news.
The law now states that no one under 18 may use the commercial tanning equipment or attend anywhere within the salon. ID may be required for proof of age. Why not try our recommended spray tanning for special occasions, perfect for 'Skin Type One's' (very fair) and others not suitable for tanning.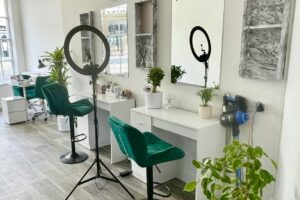 There's always something new popping up in the service area of the salon. To keep up with the latest trends please like the pages below on Facebook and drop in to see them to find out more!
Lashes and Brows by Anna
Nail art by Simona